Fitness Loopband Set of 5 Fabric
Regular price
€0,00 EUR
Sale price
€14,95 EUR
Unit price
per
Sale
Sold out
Delivery in 2-3 business days! Free shipping in GER!
Your advantages:
Made of stretchable fabric
5 different strengths from light to heavy
Less slipping than elastic bands
No cutting into the skin
Particularly suitable for leg and buttock training
Washable at 40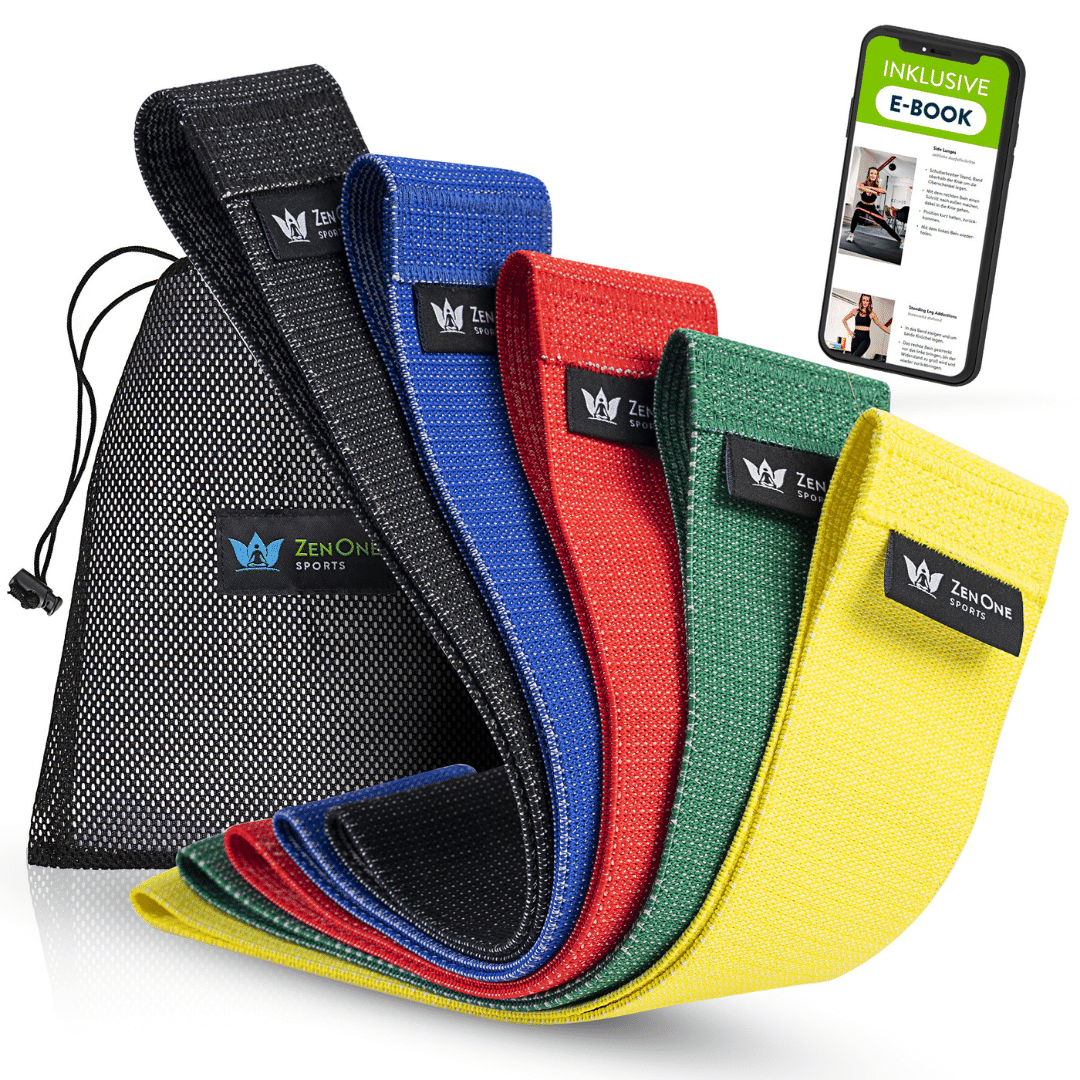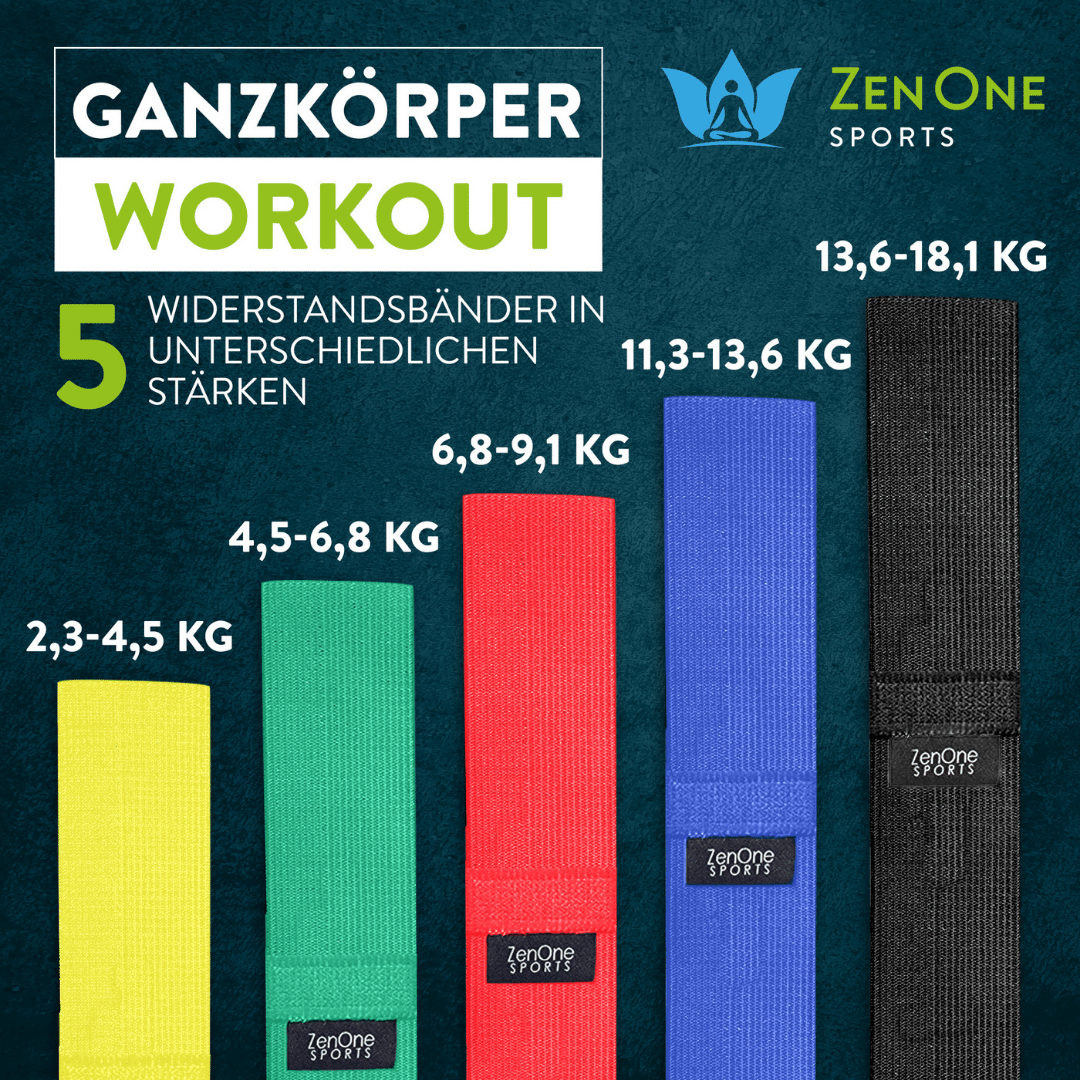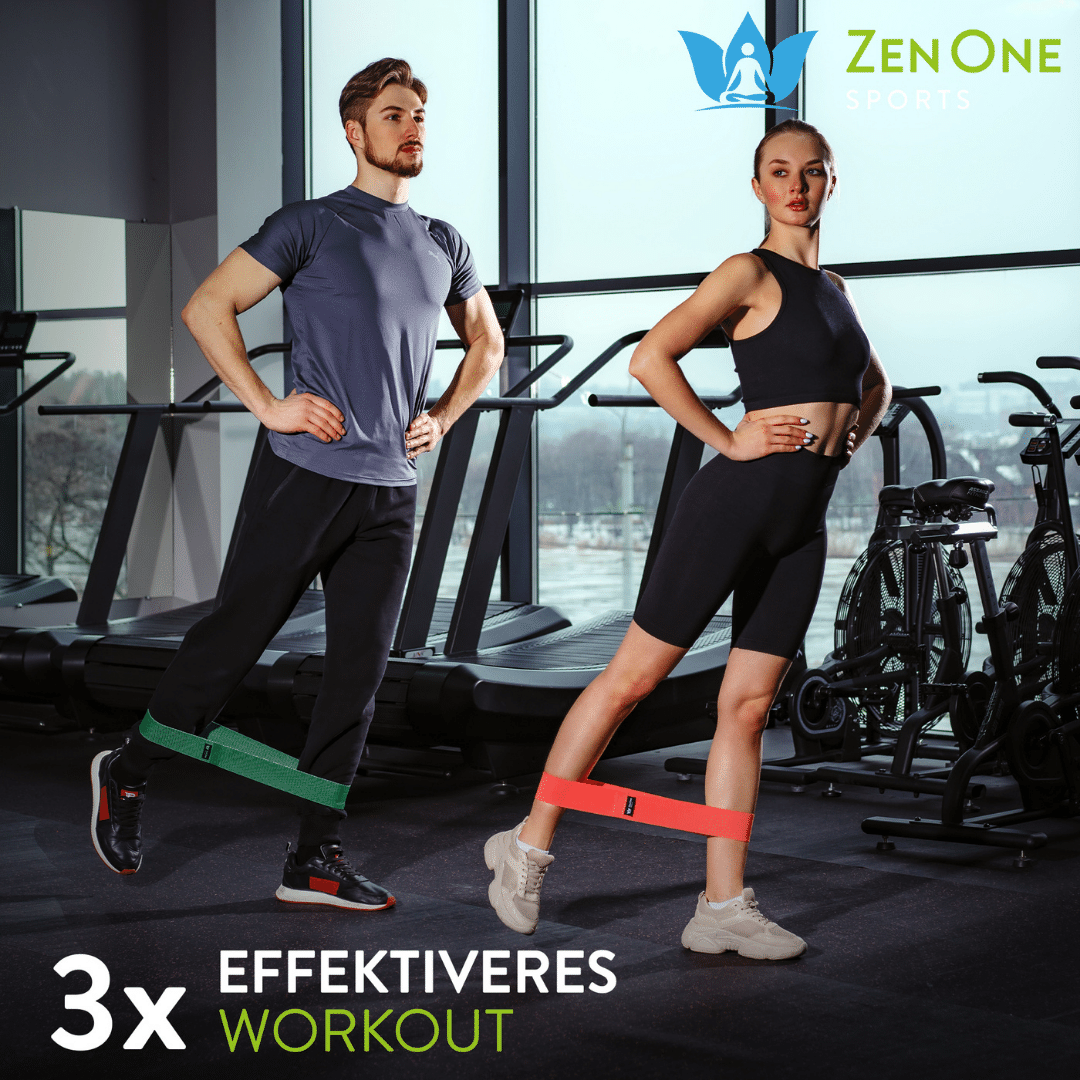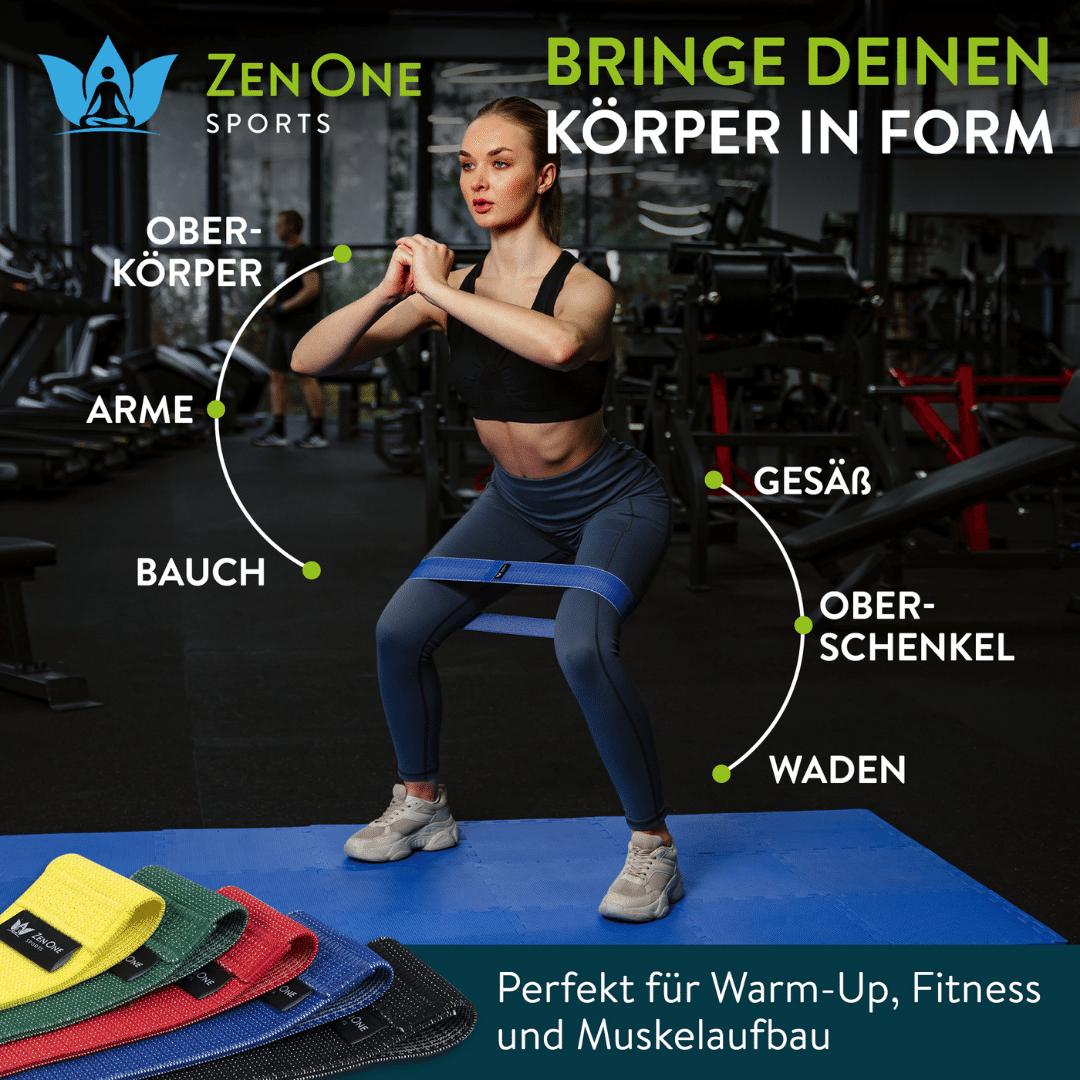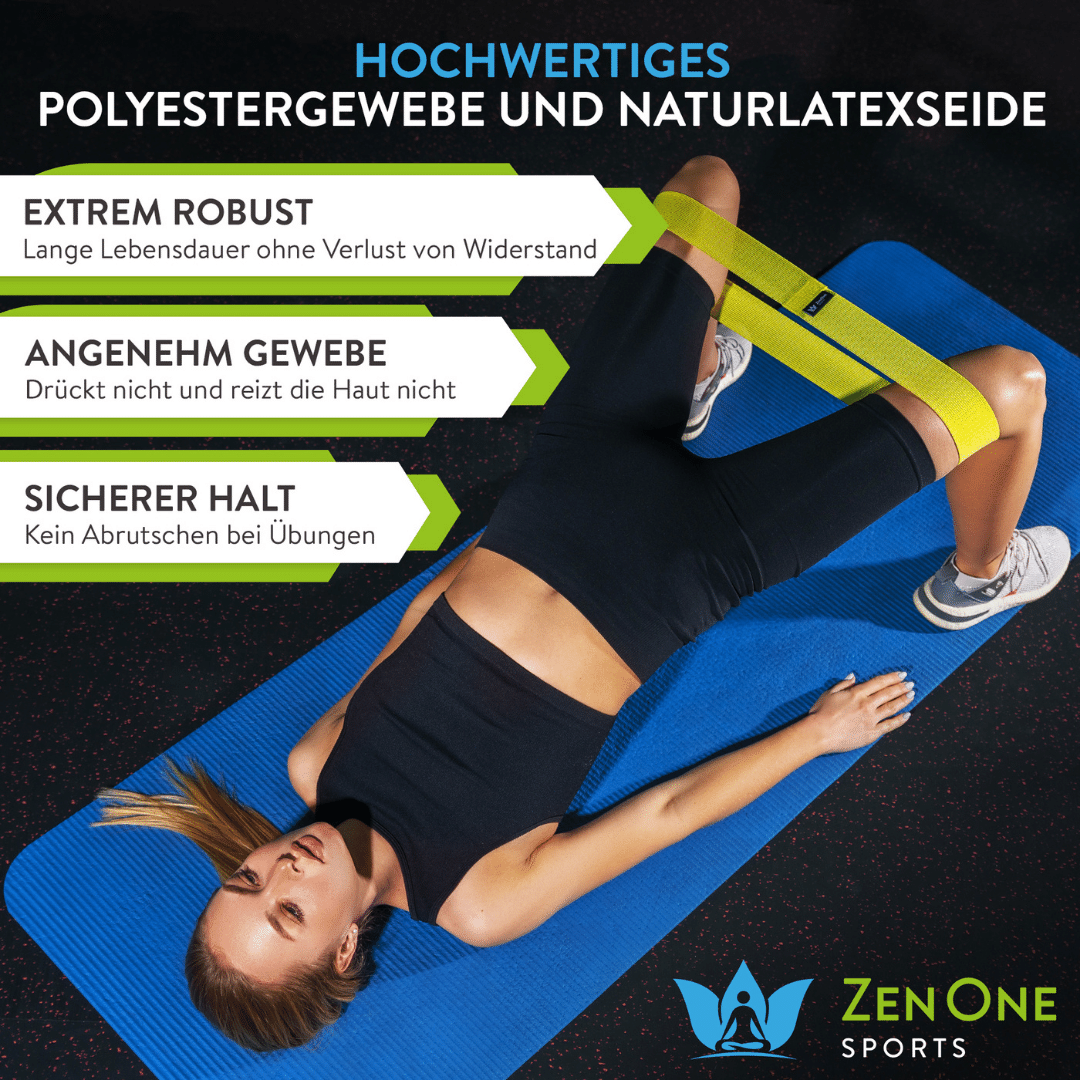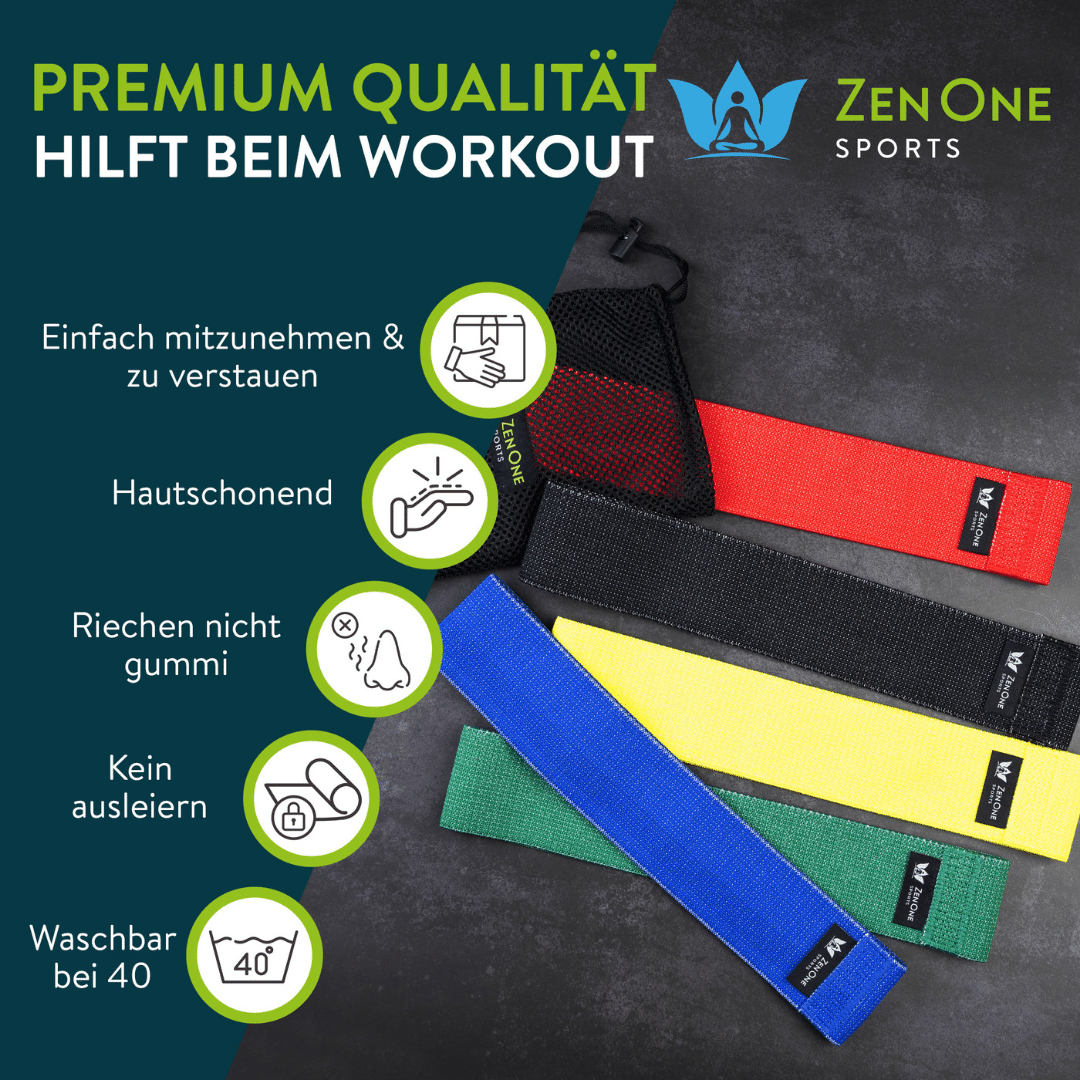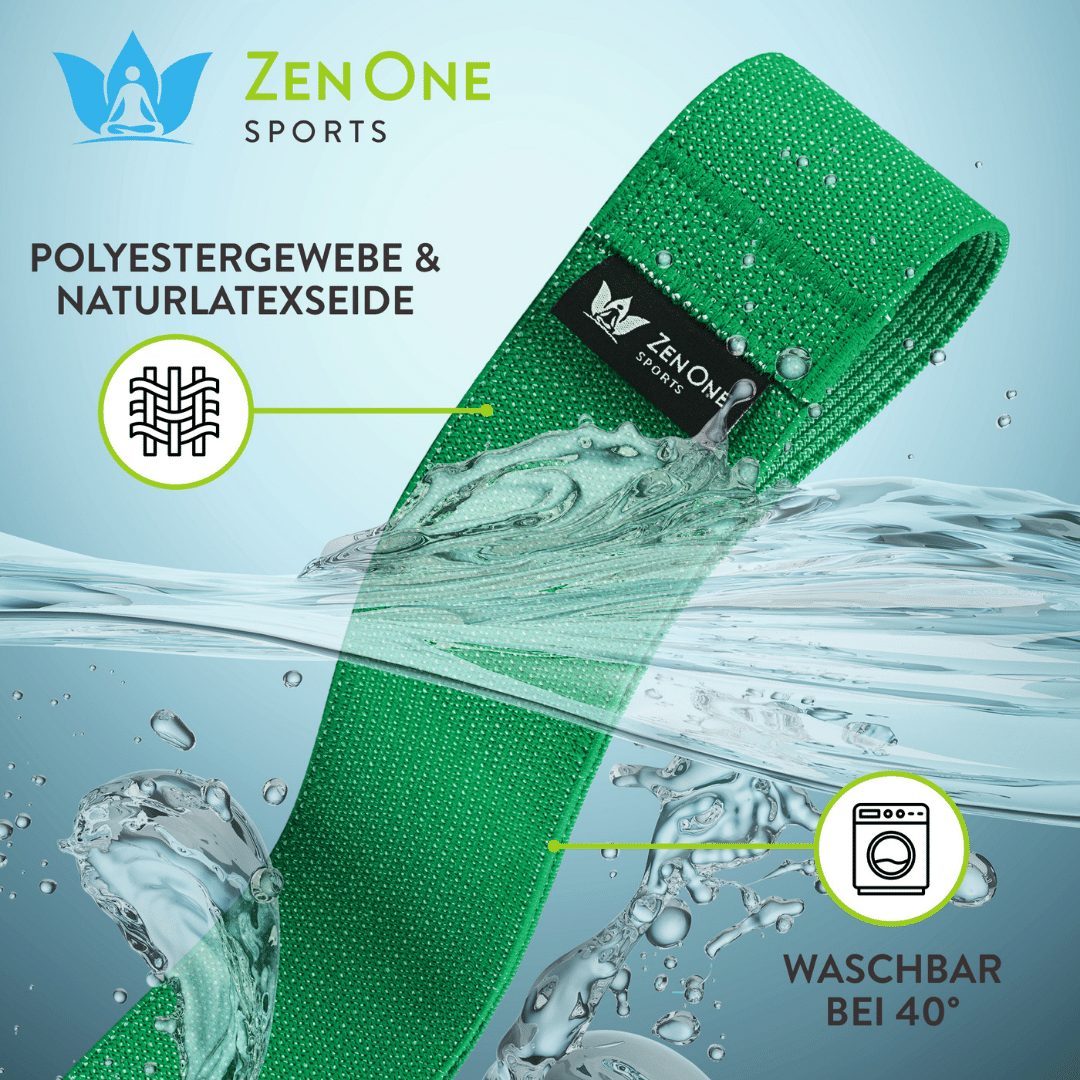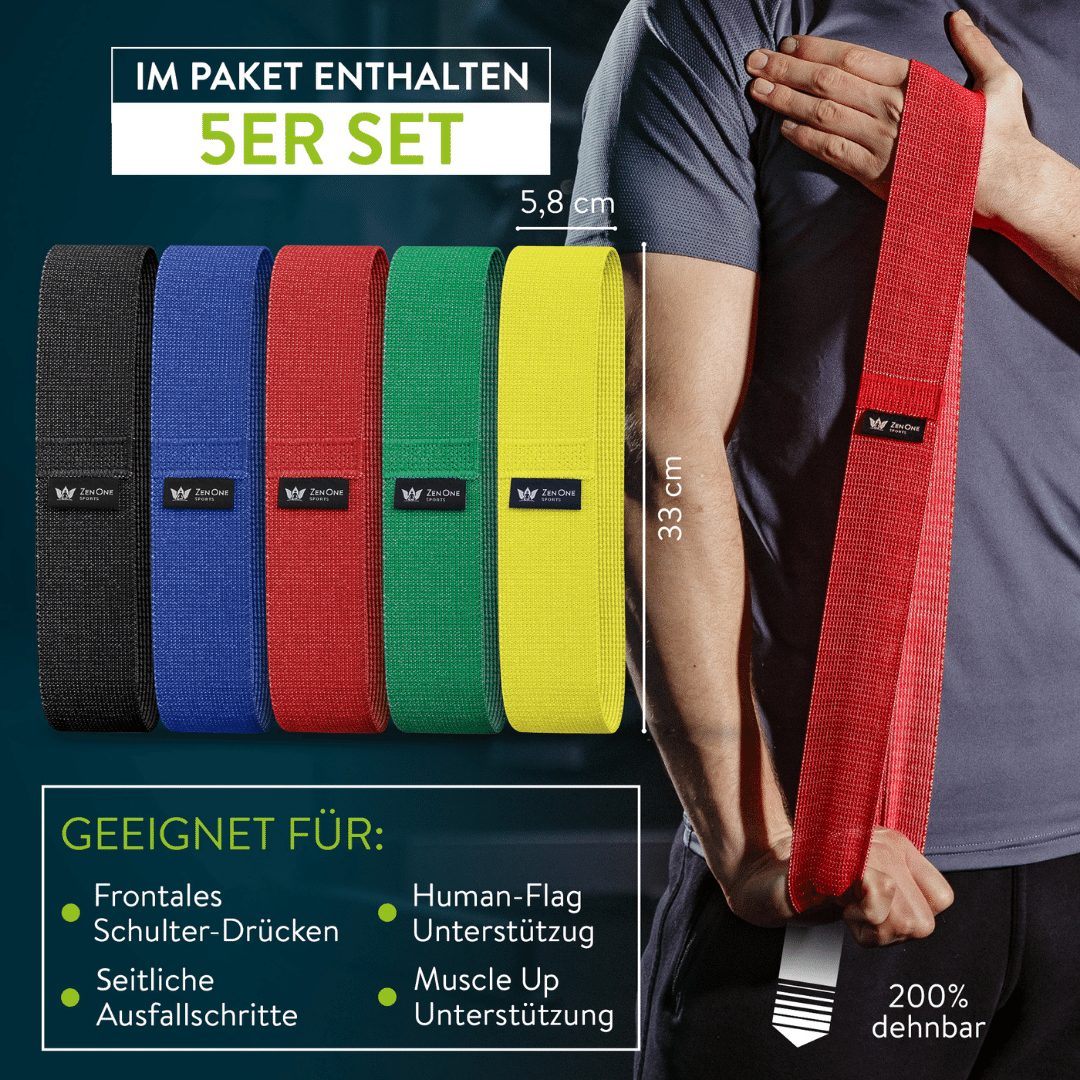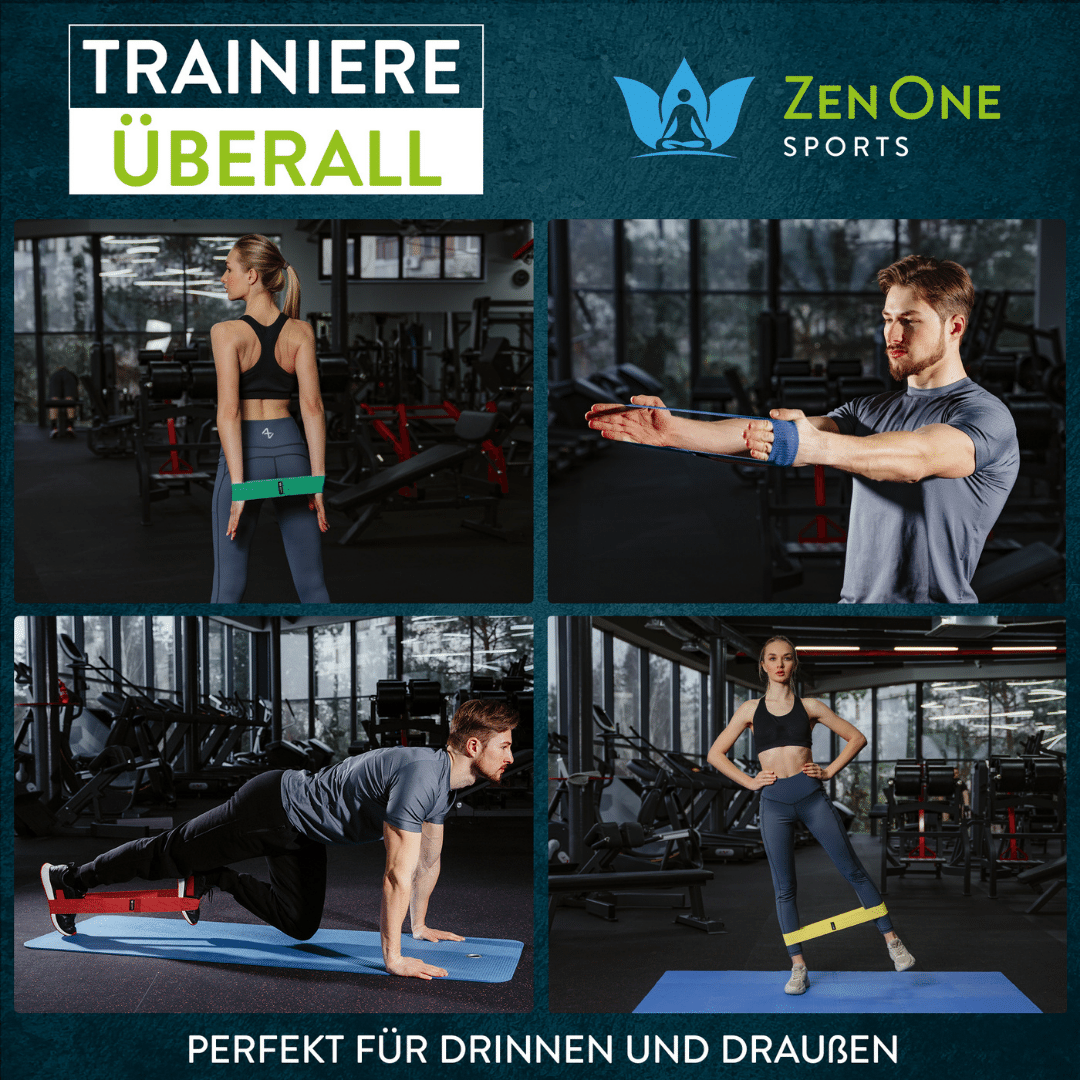 Quick Service
We respond within a few hours

Incl. Workout Guides
For your perfect workout

Quick delivery
Delivered to you in 2-3 business days!
ZenLoops Fabric 5er Set - 5 Widerstandsbänder für deinen maximalen Trainingseffekt

ZenLoops Fabric Set of 5 - 5 resistance bands for your maximum training effect
Our ZenLoops Fabric fitness band set comes in 5 different resistance levels and offers everything you need for your individual workout. You can combine each loop band with each other or train with them individually. Create your own individual workout for your fitness.
length: 33cm I circumference: 66cm I width: 5,8cm
Resistances:
X-Light (yellow): 2,3-4,5kg
Light (green): 4,5-6,8kg
Medium (Red): 6,8-9kg
Heavy (blue): 511,3-13,6kg
X-Heavy (Black): 13,6-18,1kg
Product innovation
Our ZenLoops Fabric 5-piece set is an innovative product and has been specially developed for training small muscle groups. By targeting these muscles, you reduce your risk of injury and improve your core stability. At the same time, with the fitness band set you promote muscles that are not used at all or only slightly in other sports. The ZenLoops Fabric 5-piece set is made of a high-quality textile material that ensures increased training comfort. The textiles used are particularly skin-friendly, extra tear-resistant, do not slip on the body and do not curl up like conventional elastic bands. Thanks to the high-quality materials, they are also super durable and thus offer the necessary resistance over the long term. The possibility of washing the ZenLoops Fabric at 40° also makes them particularly hygienic.
Unlimited use to achieve your training goals
Whether in the gym, in your own living room, in the park or when travelling - the ZenLoops Fabric 5-piece set allows you to train functionally wherever you want to do something for your fitness and specific muscle groups. Thanks to the natural latex woven into skin-friendly textile fibres, you won't experience any irritating pulling on the skin during training and there will be no redness on the skin surface. At the same time, you can change the intensity and extent of your training every day. Thanks to the many possibilities to design the exercises, you will not get bored during training and it is fun to keep fit in a targeted way.
Recommended by professionals
Our personal trainers Rebecca and Chris have compiled numerous exercises and their perfect execution for you in our workout guide. Use this guide to achieve your training goals and get inspiration for your total body workout.
ZenOne Sports - we move you -
We are a young German sports and fitness brand with the aim to infect as many people as possible with our enthusiasm for sports and to give them a better attitude towards life.
Under the motto "we move you", we motivate our community to integrate sport into their everyday lives and thereby develop a more conscious and healthier lifestyle. The opportunity to exercise independently and individually with our products strengthens your body and health awareness - without any monthly fixed costs and independent of sports facilities or fitness centres.
Your customer satisfaction is our top priority and our team is looking forward to your questions or suggestions.

Maße
Länge: 33cm Umfang: 66cm Breite: 5,8cm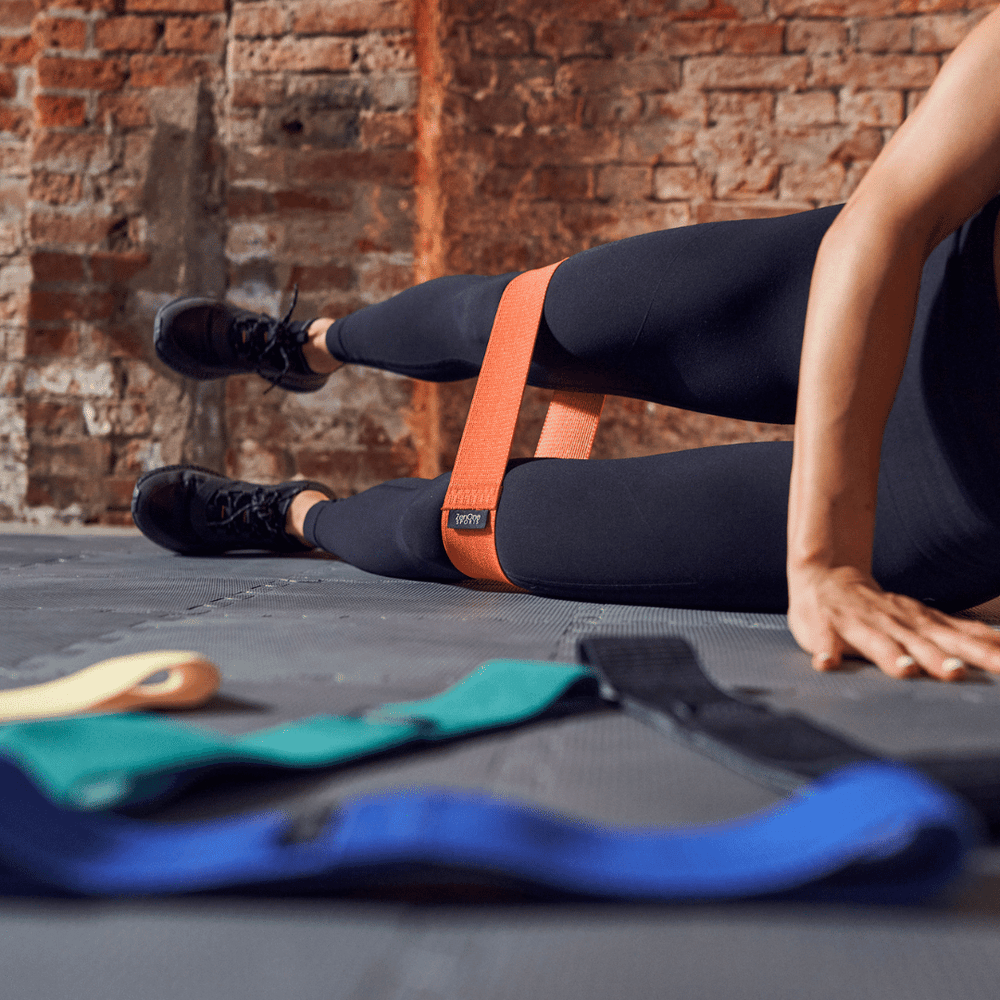 Widerstände
X-Light (Gelb): 2,3-4,5kg Light (Grün): 4,5-6,8kg Medium (Rot): 6,8-9kg Heavy (Blau): 511,3-13,6kg X-Heavy (Schwarz): 13,6-18,1kg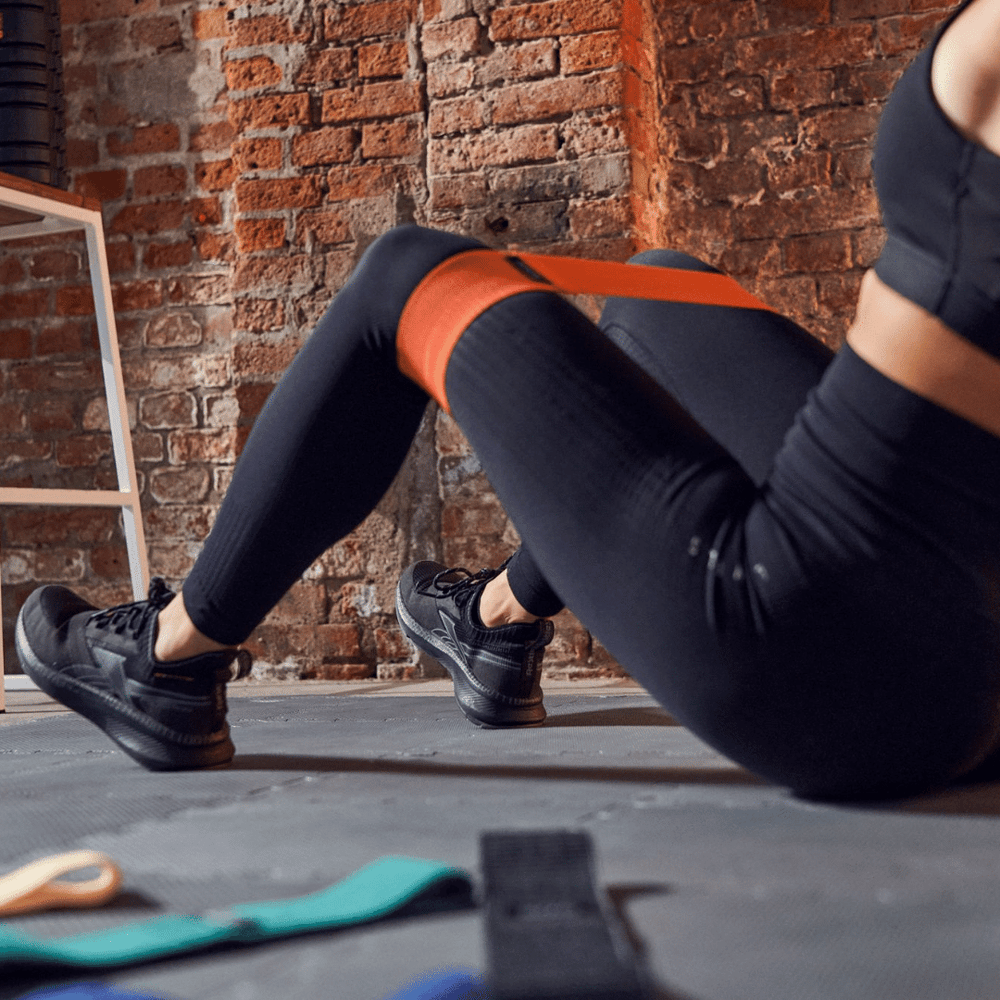 Grenzenloser Einsatz zur Erreichung deiner Trainingsziele
Egal ob im Fitnessstudio, im eigenen Wohnzimmer, im Park oder auf Reisen – das ZenLoops Fabric 5er Set ermöglicht dir ein funktionelles Training überall dort, wo du etwas für deine Fitness und spezielle Muskelgruppen tun möchtest. Durch das eingewebte Naturlatex in hautfreundliche Textilfasern erlebst du während des Trainings kein störendes Ziehen auf der Haut und es kommt nicht zu Rötungen auf der Hautoberfläche. Gleichzeitig kannst du Intensität und Umfang des Trainings jeden Tag neugestalten. Durch die vielen Gestaltungsmöglichkeiten der Übungen wird dir beim Training nicht langweilig und es macht Spaß, dich gezielt fit zu halten.